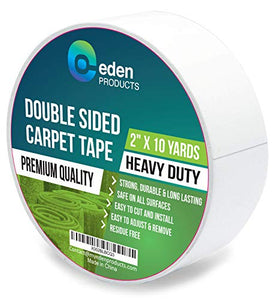 Prevent Unnecessary Accidents - One of the most common causes of falls in the home and in businesses is due to sliding rugs, mats, runners or bunched up carpet. The elderly and very young are particularly prone to these falls but it could happen to anyone. Protect your family, customers and clients by using EdenProducts Double Sided Carpet Adhesive Tape and remove that danger in minutes.

Takes Just A Few Moments to Secure Carpets with 2-Sided Tape – Our long-lasting double sided removable tape can be used for stair treads, rugs, mats, and can be used on any surface including hardwood, laminate, parquet, vinyl, marble, tile, plastic, leather, acrylic, walls, clothing, concrete, stone and even carpet to carpet

Can Be Used Anywhere, Anytime - Hallways, kitchens, stores and businesses have high traffic and need this heavy duty rug gripper wonder. Red Carpet occasions don't look good with tripping guests! The EdenProducts Double Sided Carpet Gripper Tape can be used for pools, saunas, bathrooms, Automotive jobs, body, art, hanging pictures and posters, basements, DIY work, decorative, underlayment and stairways

Do It Like the Professionals - Industrial strength, the tape will give an excellent and durable bond. Professionals use this exact product but it's also perfect for you to use at home. It is so easy to use - simply place the sticky side under your rug, remove the paper backing and stick it on to whichever surface you choose. Wonderfully strong bonding yet it's easy to adjust and leaves No Sticky Residue when removed.

Incredibly Easy-to-Use Premium Quality Tape - You can actually tear it with your hands. It needs no scissors or blades. Multi-purpose for any home use, not just carpets. 100% safe, it is even Safe For Your Skin. Buy yours now and receive 10% more length than other tapes available. We cover you with a 90-Day Guarantee so you have nothing to lose.