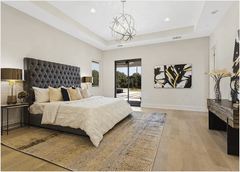 7 TIPS FOR DECORATING YOUR MASTER BEDROOM
We've been working on renovating our master bedroom over the last several months. We started this summer with installing new hardwood floors, then we moved on to giving the walls a fun two-tone paint makeover. Lastly, we built a DIY barn door on the doorway to our new master bathroom.
Now, let's take it back and see where things started before the renovation began.
Whew! Things were in pretty rough condition, right? After the new flooring and paint, the room certainly felt like we were making progress. But it wasn't until we teamed up with The Home Depot to layer in the decorations, furniture and new bedding that our boho master bedroom really came to life.
There are so many things to consider when you are decorating your master bedroom. After all, this room should be your relaxing oasis at the end of your hectic days, right? That's a lot of pressure for a room!
I'm going to share some tips for decorating your master bedroom to help simplify things a bit!
TIP #1: CREATE A MOOD BOARD
Having a mood board for your master bedroom creates an easy-to-follow design plan for your room's vibe, so you can buy decor and furniture with confidence. You'll be shocked how much it helps to see the decor and furniture selections next to each other to make sure you're going to love everything when it all comes together.
The mood board for your master bedroom should include furniture selections, color scheme, decorative pillows and an area rug. You could also add in some inspiration pictures of bedrooms that you love. You can check out the mood board that I created for our master bedroom here.
TIP #2: CONSIDER ROOM LAYOUT WHEN CHOOSING FURNITURE
Before you start scanning homedepot.com looking for your bedroom furniture (and boy do they have TONS to choose from!), be sure you consider the room layout first. It helps to know where the furniture is going to be located so you can double check measurements while you shop.
For instance, in our master bedroom, we knew where the bed was going which helped us choose the right size of rug that was going to cover the bottom half of the bed. I talk more about rug sizes in tip #4 below. I love the pattern that this fun 6×9 boho rug adds to the bedroom.
We also knew what size dresser would fit well on the wall without being too large and in the way of the door. We are just loving this Sauder Cottage Road 6-Drawer Dresser. It'a perfect in the space.
Lastly, we were aware that we had very limited floor space for the nightstands because we actually have a pretty small master bedroom. We opted to create DIY shelves instead of nightstands with 12-in. boards and forged steel brackets. This gives us the flexibility of sliding something under the shelf on the open floor space if needed (like a dog bed or basket for the throw pillows).
TIP #3: CHOOSE NEUTRAL BEDDING
I personally think white fluffy bedding is always a good idea. It's a classic that will never go out of style. It instantly elevates the room and makes it feel bigger and less cluttered, which promotes calmness in the room.
We added a textured white duvet cover and oversized Euro Shams from The Company Store. The bedding texture creates some interest, but it also keeps things clean and simple. The fun boho throw pillows and blanket instantly add a ton of boho character without overwhelming things.
I also love that white and simple bedding allows you to incorporate fun styles and patterns on your sheets. We fell in love with these white and tan stripe set that we found.
TIP #4: INCORPORATE AN AREA RUG UNDER THE BED
One very easy tip when decorating your master bedroom is to add an area rug under the bed. Even if it's the only thing you do, adding a rug can make a huge difference for the space. An area rug helps anchor the large furniture and adds a ton of style.
If you're stumped on what size rug to choose to go underneath your bed, this guide from The Home Depot is a great resource. It suggests that you should have about 3-ft. of rug space around the bed. We didn't have enough room for this in our bedroom, so we opted for a 6×9 boho rug with a fun pattern and tassels. It tucks in nicely under the foot of our bed.
TIP #5: ALWAYS ALWAYS ALWAYS ADD CURTAINS
To be completely honest, I was a sceptic about the whole "curtains are necessary" thing. In our last bedroom, we had cellular shades, and I never ended up hanging curtains. I didn't get what the big deal was. In this bedroom, we do plan on adding cellular shades as well, but now I know that curtains do SO much more for a space rather than just blocking light or adding privacy.
Curtains add texture and a coziness to the space immediately. Just look at the above picture before we added the curtains to our master bedroom. There's a huge difference, right?? I love these simple white sheer curtains with this modern black curtain rod. So here's the deal, if you are sceptical about curtains, just give it a try when you are decorating your master bedroom. It's not that big of an investment, so there's not much of a risk here.
TIP #6: ADD PLANTS TO GIVE LIFE TO THE ROOM
If you are struggling with what type of decor to add to your master bedroom, the best place to start is with plants! Plants are seriously the easiest thing to add to your decor. Throw a small succulent on the nightstand, add a faux tree in the corner or hang a plant from the ceiling. You'll be shocked with what a difference it makes!
If you are worried about taking care of real indoor plants, you can really accomplish the same thing with faux plants too! The Home Depot has great options for both real and faux indoor plants!
We just love the hanging plant we added to the corner. It's called string of bananas, and it looks great in this pot with this black macrame hanger.
TIP #7: DON'T FORGET ABOUT LIGHTING
My last tip for you when decorating your master bedroom is to not forget about the lighting! We had a boring flush mount light in here before, and we swapped it out for this gorgeous light. It immediately added so much character to the room.
Incorporating a 2nd or 3rd light source to the bedroom can also make a huge difference. Ambient lighting can make a room feel so cozy. These budget friendly wall sconces that we added to the bedside are great. I love that these can be incorporated as a plug-in or hardwired. We kept it easy and did the plug-in method and covered the wire with a wire channel.  It's paintable so it blends right into the wall color.
Decorating your master bedroom to become the relaxing oasis at the end of your crazy days doesn't have to be hard! Start with a mood board and a general room layout plan so you can shop with confidence. If you're stuck choosing bedding, go with something classic, like white. Don't forget to add an area rug, curtains and refreshed lighting to your shopping list. Lastly, sprinkle in plants and greenery throughout to bring life to the space.
By incorporating these tips, we've taken our master bedroom from blah to boho. We created the modern boho bedroom of my dreams! It's a simple and relaxing space that I absolutely love. Thank you so much to The Home Depot for partnering with us on this bedroom makeover!