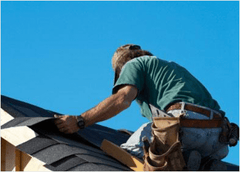 5 IMPORTANT HOME MAINTENANCE STEPS FOR SPRING
Spring is one of my favorite seasons because it's a great time to address any roof damage that came with the fall and winter, and clean those often-neglected gutters and downspouts.
You can make sure the air conditioner will work when temperatures skyrocket and take steps to prevent your clothes dryer from catching on fire.
And you can transform a blank backyard to colorful flowerbed landscapes that will make home look and feel more like 'home sweet home.'
It's possible to do these things, and more, to improve your home and enhance your life. But first, you need to have a plan. And for that, read on!
CLEAN THE ROOF AND CHECK FOR DAMAGE 
Regular roof maintenance is the most important maintenance tasks you can do around the home, since the roof protects you and everything inside your home. You should keep your roof clean, clear and in good shape, as small problems today can lead to much bigger ones in the future.
Spring is the best time for roof maintenance because your roof has weathered the fall and winter; it's seen its share of leaves, limbs and snowfall, and it's finally getting a reprieve.
Lingering debris can lead to damage, so here are some chores you should tackle as soon as possible.
First, clean the leaves, limbs and other debris from the roof. Then focus on any chimneys, dormers and valleys.
Next, check the flashing for damage and use masonry caulk to seal gaps where the flashing attaches to bricks or masonry. While you're at it, check for loose or damaged roof shingles and repair those as needed.
Once the roof is spotless, look for any holes that might leak water and lead to mold, mildew and rot.
After all this, you can rest assured knowing that the roof over your head is doing the best job it can.
CLEAN ALL RAIN GUTTERS AND DOWNSPOUTS; MAKE REPAIRS, IF NECESSARY
After you've worked on the roof, check the gutters, which have probably accumulated lots of leaves and debris during the cooler seasons. Nothing good comes from clogged, overflowing gutters — but they can lead to rotten fascia boards, water damage, pests and maybe even damage to your home's foundation.
That's why regular gutter maintenance is important, and spring is a great opportunity for that since there's no freezing weather or snow. (Plus, it just feels good to be outside.)
First, put on some gloves. Then, grab a gardening trowel and scoop the leaves and debris from the gutters. Next, move the leaves and debris to a plastic bag for safe keeping. (That way, you can add them to your compost pile. Waste not, want not!)
Finally, wash the insides of the gutters with a garden hose and check the downspouts to make the sure the water flows freely. And if you want to avoid cleaning your gutters every few months, here's a bonus tip: go ahead and buy some gutter guards! You just insert them in your gutters to prevent leaf and debris buildup throughout the year.